Welcome to
ECOWAVE Travels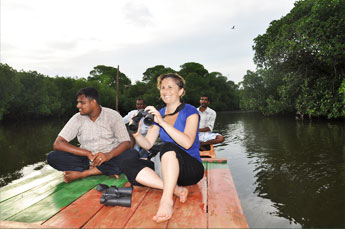 Ecowave Travels is a tour operator committed to promote responsible and sustainable tourism with a particular focus in agro-eco-tourism, which guarantees the centrality of local communities and their relationship with tourists.
We are committed to offer a unique travel experience to the responsible travelers to Sri Lanka: local communities, local cultures and traditions, archeological sites, nature and wildlife, and universally renowned beaches.
We are specialized in providing community based experiences to the tourists, through the visits we facilitate to rural villages; you will be able to see eco-friendly cultivation of vegetables, paddy, spices, fruits and herbs. Also it will provide a unique opportunity to spend time to partake in a meal with a village family, experiencing a true moment of village life.
Ecowave Travels has developed exclusive community based tourism initiatives in Sri Lanka ensuring local communities become direct beneficiaries of responsible tourism and economic benefits reach the people in need.
Ecowave Travels is a company with a mission: to deliver exceptional travel experiences for visitors while ensuring local communities benefit through tourism. Ecowave Travels is the tourism wing of the Ecowave Guarantee Ltd.
www.ecowave.lk
a social benefit organization, which operates for providing market opportunities to rural small-scale farmers.
Community-based Excursions
Kumana Natinoal Park, Panama Village

Kumana National Park, Panama Village, Okanda Template and Kudumbigala Monastry

Kumana National park, (also known as the Yala East National Park) is a paradise for bird watching. There is an amazingly wide variety of birds easily spotted in the early hours of the morning and evening, inside the park.

The rough & dry terrains of the national park, is the home for many animals such as elephants, leopards, sloth Bear, wild buffalo, wild boar, deer and crocodiles. A jeep safari at the Kumana Park is assured to be a memorable experience.

Okanda Temple, situated near the entrance of the Kumana Park is a small Hindu shrine in which you will find sculptures depicting the Hindu Gods. Approximately hundred meters from the main temple, you will find two more small shrines built atop a small rock from which point you can get a good view of the Indian ocean. Walk down to the Okanda beach and enjoy the scenic beauty. You may also find a few experienced surfers on the beach.

Kudumbigala Monastery, dates back to the 2nd Century B.C, and is large in extent. You will come across a number of caves used by Buddhist monks for purposes of meditation. The central area of the monastery has the sthupas and statues.

You will have a chance of meeting a monk to discuss about meditation and the history of the place. Your guide will help with the translation. The monastery is about a 30 minute walk along a foot path to the summit of the rock. If you like to climb further, you can reach "Belum Gala" ('Observation Rock') and enjoy an eagle's eye view of the whole area including the Indian Ocean.

Panama Village is a village situated between Arugam Bay and the Kumana National Park. The majority of the villagers earn a living through agriculture and fishing. Tanks, locally called ('Wewa'), lagoons with mangroves, paddy fields, slash and burn cultivations and home gardens serves as the natural landscape of the village.

ICEI / OVERSEAS have assisted the villagers of the Panama village since 2005 to improve their organic home gardens and agriculture. Lunch will be prepared in a village farmer's house to enjoy Sri Lankan rice & curry lunch. "Curd" made with buffalo milk will be served for dessert.

Please see overleaf for tour itinerary...

Tour Itinerary

6.00 am
Departure from Arugam Bay
7.00 am
Arrive at the Kumana National Park
- Jeep safari in the park
11.00 am
End of the safari
- Proceed to Okanda Temple, visit temple and Okanda beach
11.45 am
Proceed to Kudumbigala Monaster.y
- Visit the monastery
01.15 pm
Arrive in Panama Village
- Lunch at a Panama village, farmer's house
- Visit Panama Village
02.45 pm
Departure to Arugambay
03.15 pm
Arrive in Arugambay

Kumana National Park

Kumana National Park

This excursion is tailor made for those who are keen on birds, crocodile and mammals. At the Kumana National Park, renowned as a paradise for nature lovers and synonymous for the large number of bird species in countless number of colours. You will also discover a great deal of flora and fauna, religious places steeped in rich history of Sri Lanka and life of the local community and also organic home gardens and organic food. One of the most attractive features of the park are the Kumana Villu - a 200 hectare natural swamp lake, and by the Kumbukkan Oya (A small river) through a half mile long narrow channel.

Arugam Bay - Lahugala Raiders

Arugam Bay - Lahugala Raiders - Half day excursion

Bird Watching, community sightseeing & Visits to Magul Maha Vihara and lunch with local community are all in the agenda of this half day excursion.

The Lahugala Buddhist temple is famous for two reasons. It is believed to be the location for the Royal wedding of King Kawantissa and Princess Vihare Maha Devi. The other reason is that it has a "Moon Stone" with a carving that is one of a kind in Sri Lanka. At the entrance to the temple there is a small archeological museum with artifacts excavated from the site, a museum worth exploring. . Lahugala Temple, Magul Maha Vihara is a place of Sri Lanka's lesser known but of much ancient historical value

After the visit to the Archeological Museum, a traditional Sri Lankan Lunch is arranged with vegetables and rice from the village home gardens so that you get a chance of experiencing the renowned Sri Lankan hospitality of the village community.

You will also visit eco-friendly home gardens.

Matale Cocoa Farmers

Matale Cocoa Farmers and Cocoa processing factory

Matale is renowned for Sri Lanka's cocoa cultivation. Cocoa is grown by the farmers in Matale area as a major cash crop, among other varieties of spices.

Matale, is located along the A9 road between two UNESCO World Heritage sites; Kandy and Dambulla, (famous for its rock Buddhist cave temple). The Cocoa processing factory in Matale is located on the Nalanda industrial estate, just off the main road.

ICEI collaborated with the factory from the initial setting up stage to improve the livelihoods of small scale organic cocoa farmers. A visit to the Cocoa Processing Factory will give you an interesting insight to how cocoa is collected, dried, fermented and processed. At the small outlet in the factory premises you can buy some of their produce that are well packed. During the off-season for cocoa, the factory processes ginger. You can have a cup of freshly brewed ginger tea at the centre.

Once you have seen how cocoa is processed, you can see how it is grown, visit a few home spice gardens and see many other spice plants as well. If your visit is during the season, you'll be able to taste ripe cocoa. The Home Spice Gardens in Matale are treasure chests of spices. You will get a chance to taste Clove, Cardamom, Cinnamon and many other spices. Not only spices but some seasonal fruits in these home gardens are great to try. The villagers who own the gardens are so generous they will let you taste whatever you choose.

If you wish to see how natural rubber is processed in Sri Lanka, ask your guide to take you to the small scale natural rubber factory situated nearby. After the walk about you can savour a typical oriental Sri Lankan lunch at a village house, arranged by the hospitable villagers. The next stop would be the famed Rock Temple of Aluvihare that has colourful paintings and carvins. From atop the rock the temple is situated, it is indeed a fascinating view.

Please turn overleaf for tour itinerary...



Tour Itinerary

7.00 am - Departure from Kandy
9.00 am - Arrive in Matale Cocoa Factory
Factory tour; view the cocoa processing operation.
Refreshments (ginger tea)
10.30 am - Visit a spice home garden
- see the cocoa plants and many other spices
11.30 am - Traditional Sri Lankan lunch at a farmer's house, made with organic vegetables and spices
01.00 pm - Proceed back to Kandy
01.30 pm - Visit Aluvihare Rock Temple in Matale
02.30 pm - Departure to Kandy
03.30 pm - Arrive in Kandy.




Potuvil Lagoon Safari Lahugala Village

Potuvil Lagoon Safari, Lahugala village, Magul Maha Vihara and Urani Village

Pottuvil lagoon is a place you must visit during your stay in Arugam Bay. This large lagoon serves as the main source of income to many fishermen in the area. Seafood lovers! The succulent prawns you eat in Arugam Bay are from the Pottuvil lagoon! The Lagoon is rich with mangrove vegetation and it serves as a nesting and feeding ground for a large number of birds. A canoe ride in the lagoon during the early hours of the morning or in the evening will be an unforgettable experience. Within close proximity to Pottuvil lagoon is the Muhudu Maha Vihara, which is an old Buddhist temple with mosaic of ruins.

Lahugala village -; while travelling by road through the Lahugala village, one is bound to spot wild elephants roaming throughout the day, taking a stroll from the nearby National Park. But there's more to Lahugala than elephants. Lahugala is a village of traditional farmers who earn a living from cattle rearing and vegetable and paddy cultivation.

The village temple "Magul Maha Vihara" built during 453-474 AD, is a place that records an event of the country's rich history and has the distinction of having the rare half moon stone with figures that depict elephants-identified as one of a kind, in Sri Lanka.

Urani Village is an agricultural village with farmers dedicated to agriculture. You can visit the integrated home gardens of the farmers where you can see the cattle sheds, composting and organic home gardens with a rich & healthy harvest. Your lunch will be prepared in this village so that you could enjoy home cooked traditional rice and curry lunch made with co-friendly vegetables.

Please see overleaf for tour itinerary……..



Tour Itinerary

6.30 am -Departure from Arugam Bay
7.00 am - Arrive in Potuvil lagoon
- Lagoon safari
9.30 am End of the safari
- Proceed to Lahugala village and Magul Maha Vihara
- Refreshments in Lahugala village
11.30 am - Proceed to Urani
- Visit a village home garden
- Lunch at a village farmer's house
01.15 pm - Leave Urani Village
01.45 pm - Arrive in Arugambay




Potuvil Lagoon Safari and Sand Dunes

Potuvil Lagoon Safari and Sand dunes - Half day excursion

This excursion begins with the morning sunrise with bird watching at the Potuvil Lagoon. You can get to know about the mangrove ecosystem of the lagoon and its benefits to the fishing industry.

You will see fishermen with their traditional fishing gear and also have a fresh fish breakfast with them!

Next in the agenda is the visit to the Muhudu Maha Vihara. The famous sand dunes that you will see on the way in Potuvil will make you feel as though you are in desert for a moment, but the greenery behind you, will remind you of the beautiful island you are in.

This place is famous among locals during Full moon nights, where hundreds of people gather with their families in the evening to enjoy the night and many small shops are put up to sell snacks and meals.

This excursion will be enjoyed by those interested in visiting religious place and to learn of its historical heritage, life of the local community and those who are keen on seeing organic home gardens and food.



Heeloya Dunhinna Village

Heeloya & Dunhinna Villages

Heeloya, a tranquil, scenic village is an hour's drive from the busy World Heritage City of Kandy; the hill capital of Sri Lanka and the home of the sacred tooth relic of the Lord Buddha revered by Buddhists.

Kandy and its environs are renowned for its rich, cultural and natural attractions, considered a treasure trove by enthusiastic travellers. With a breathtaking scenic backdrop, of terraced paddy fields, organic home gardens with composting units and community farms, Heeloya also has a diversity of plants that is a natural herbarium for nature lovers. The Kandyan home gardens make an exceptional habitat for the avifauna in Heeloya. A beautiful waterfall, a waterslide, a number of bathing spots and natural pools of the Heeloya river, beautiful mountain-top viewpoints are just a few of the many other attractions on the tracks of Heeloya.

A wide variety of bird species can be sited. In higher elevations, Upper Heeloya covers grasslands and Barking Deer that inhabit the area and can be heard almost every night. If one decides to set out into the forest areas, wild boar can be sighted and will encounter caves entrenched with folklore of centuries past. The smiling, hospitable, people- friendly and eco- friendly villages of Heeloya carry forward centuries old traditions of an unblemished culture, older than most of the trees in the region that have enticed many a visitor. The visitors are given a warm welcome and the opportunity to experience traditional Sri Lankan cuisine in its original form.

This excursion is thus one of a kind to explore and unravel the beauty of nature at its best. Well trained community guides in the village will ensure that the visitors will be looked after well during their visit.

Dunhinna, a village in close proximity to Heeloya village is a paradise of spices. You could see many spices such as Pepper, Cloves, Nutmeg, Vanilla, Cardamom, Ginger, Coffee, Cinnamon and many other species of fruits. That's not all you would also see Sri Lanka's famous tea plantations (Ceylon Tea) in this village.

You can see all of the mentioned above when you visit one of the village home gardens. Have a cup of Sri Lankan tea with traditional sweet Juggery – locally known as ("kithul Hakuru") made from the Kithul Palm (Caryota urenus). You could find out from the villagers how they cultivate, harvest and process the spices. You can visit the Community Spice Processing Unit in the village which is a project supported by ICEI/OVERSEAS. Please turn overleaf for excursion itinerary....

Tour Itinerary

7.00 am
Departure from Kandy
8.30 am
Arrival in Heeloya village
Welcome by the village community
Refreshments
9.00 am
Visit the village Temple
9.45 am
Proceed with the village tour
- Visit a farmer's home garden and explore the local vegetables and fruits. Don't miss to have a look at the "chilli" plants, a common component in Sri Lankan cuisine. 
- Walk through the paddy fields
- Proceed to the waterfall (optional bathing in the stream)
12.00 noon
Proceed back to a farmer's house for traditional lunch (Rice & Curry) made with village grown organic rice and vegetables
01.30 pm
Proceed to Dunhinna village
02.30 pm
Arrival in the Dunhinna village
Welcome by the village community
02.45 pm
Visit a Spice Home Garden
- See the spices in its natural habitat and how Sri Lankans grow and process the spices
- Observe local varieties of fruits available and if the fruits are ripe, the villagers will offer you some.
- Visit a village farmer's tea garden
- Have a cup of tea with 'Kithul Hakuru' with the  villagers
3.45 pm
Visit the community Spice Processing Unit in the village- See how the spices are processing and buy some spices to gift your friends
04.15 pm
Departure from the village and proceed to Kandy
05.45 pm
Arrive in Kandy.

Guidelines for travellers

When visiting Buddhist temples or any other place of worship, ensure that you are appropriately dressed. Wear tops with sleeves and pants.
Footwear and hats should be removed when entering places of worship.
For bathing in open places:

Women: A t-shirt and a pair of shorts.
Men : A pair of shorts.

Women should always wear ¾ trekking trousers and t-shirts with sleeves (not reveal the shoulders).
Trekking shoes are recommended. High heeled shoes are not advisable.
Smoking is not well accepted among village people, especially women- smokers.
It is advised to avoid smoking in public areas of the village.

Real Adventure in Panama

Real adventure in Panama - Full day excursion

Panama Village is situated in the quiet environs of the village beckon the traveler to pursue further in to the village. One could see the eco-friendly home gardens with fresh vegetables grown using natural and chemical-free fertilizers and pesticides.

This excursion is ideal for those who want to see birds & crocodiles, community sightseeing & visit a monastery, religious sites of the two ethnic groups of Sri Lanka.

Lunch will be with the local community-where you can discover the different simple lifestyle of the villager.

Okanda, is a Hindu shrine situated close to the Kumana National Park entrance to which thousands of devotees flock every year (July/August) for the "Pada Yathra"- a spiritual journey to pay homage to God Skanda in Kataragama. Observe the colorful sculptures depicting the Gods. Enjoy the scenery from the nearby rocks and the Okanda beach.

The Kudumbigala Rock monastery is an ancient Buddhist meditation centre located inside a shrub forest that has a number of caves. You will be amazed to observe pin drop silence atop the rock. You would want to spend a little time there for sheer peace and silence.

On the way back you will get to see what is called the crocodile tank, you will also spot rare species of birds in this are including "Flying foxes" A Sri Lankan village lunch will be arranged with rice and vegetables at a village home garden. You will experience typical Sri Lankan hospitality of the village community.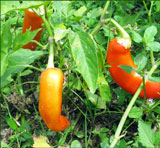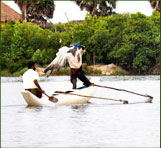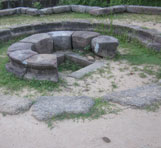 View More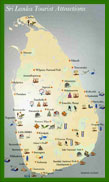 Nestled in the Indian Ocean in southern Asia, the tropical island country Sri Lanka has a history dating back to the birth of time. A place where the original soul of Buddhism is still alive and where Mother Nature remains abundant and untouched, Sir Lanka is simply a thing to be experienced.
Read More...